Simplicity Product Literature
Welcome to the Premium Mower Experience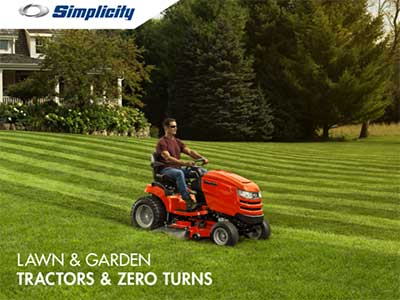 Some people simply mow their grass. But, some people, like you, find passion in a manicured lawn. A passion and dedication that is a representation of who you are. It's more than cutting the grass, it's about being proud of the result. That's the Simplicity® difference.
At Simplicity, we deliver industry-leading results through premium and dependable equipment. We emphasize innovation that makes your life easier and yard work more comfortable. Our mission is to make you proud of your lawn and provide the equipment to make that happen. With a Simplicity tractor or zero turn mower, manicuring your lawn is no longer a chore. It's a luxury experience. 
Click here to view the 2022 product literature on lawn & garden tractors and zero turn mowers from Simplicity.