Riding Mower Attachments: the Solution to Yard Work
---
---
Today's lawn mowers have the power and versatility to do so much more than cut your lawn. As a Simplicity® Owner, you will save yourself hours of stress and strain with our convenient and innovative riding lawn mower attachments. Learn more about how you can clean, clear, dig, haul, push, blow and truly power through most any lawn task.
Grass Catchers & Collection Systems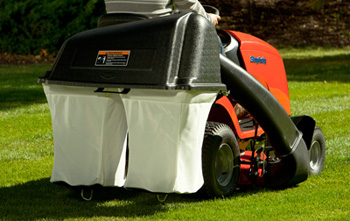 You probably look forward to your weekly lawn mowing, that relaxing time under the sun in the seat of your beefy lawn tractor. Make that time more enjoyable and efficient with a grass catcher or collection system for those times you want an extra clean finish. 
Otherwise, when the leaves begin to fall, turn your lawn mower into a leaf shredder, mulching kit or use a collection system to sweep up your entire yard.
Check out Simplicity's extensive line of grass catchers, mulching kits and collection systems. 
Tiller & Ground Engaging Attachments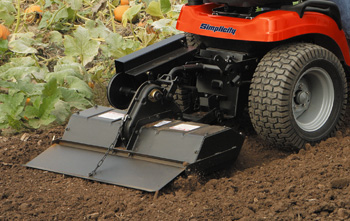 Serious about landscaping? Your lawn mower can help you obtain amazing results. 
Prep the ground for any size garden with a tiller attachment. Encourage grass growth like a pro with an aerator. Erect a fence quickly with a post hole digger. Need more? You can truly move the earth if you wish, using a dozer. 
Learn more about Simplicity's work-saving tiller and ground engaging attachments.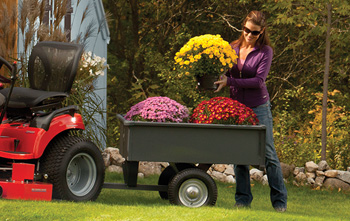 Some riding mower attachments are essential for a variety yard care tasks. A dump cart, for example, can carry brush, grass clippings, pavers, seedlings, pool accessories… the applications are nearly endless. That makes a dump cart indispensable for homeowners who work and play in their yard.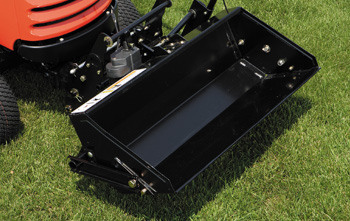 Have even heavier duty needs? A front-end loader attachment can move large amounts of soil, mulch or other aggregates right where you need them – even if that happens to be at the other end of an expansive lawn. Equipped with a 48-inch bucket, this attachment beats the average wheelbarrow or garden cart hands down.
In winter, your riding mower will track better through the snow with the aid of tire chains and weights. These add-ons are popular complements to snow removal attachments.
The right multifunctional riding mower attachment or accessory is just a click away.
Snow Blower Attachment Options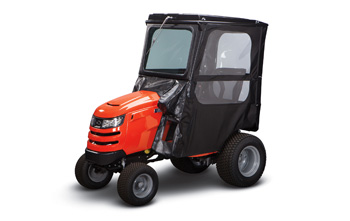 Shoveling snow is hard on the body and not nearly as efficient as plowing it. You can transform your summer lawn mower into a winter snow blower with a simple upgrade.
Simplicity offers single and 2-stage snow blower attachments that leverage the mower's massive power to throw snow further. Or, choose a dozer blade to effortlessly plow a 42,48 or 60-inch path down your driveway. A snow cab attachment provides welcome shelter from the wind and blowing snow.
Take a look at the back-saving snow blower and removal attachments sold at your local Simplicity dealer.
Remember, Simplicity attachments are available exclusively through independent mower dealers. Many lawn and garden riding mower brands offer attachments. But when it comes to quality, performance and longevity, the choice is easy... Simplicity.
Note: Not all attachments fit every model. Attachments for previous year models and additional attachments through allied equipment manufacturers not mentioned may be available. Some attachments require additional installation components (i.e. front weights for a catcher). Please see dealer for details.