Mulching VS. Grass Catcher: How to Handle Lawn Clippings
---
---
Summer, for most homeowners, means mowing season. With a Simplicity® lawn tractor or riding mower, you know you're getting the best cut on the block. But there's a dilemma that must always be faced after mowing: what to do with the lawn clippings?

Is it better to remove them in bags with a grass catcher? Or is it better to mulch the grass clippings and work them into your landscaping strategy? We break down the options so you can figure out which way to handle lawn clippings is best for you.
Should I Bag My Grass Clippings?
Sometimes it's necessary for homeowners to bag their grass clippings during mowing season. The development of thatch, a layer of undecomposed grass and organic matter that can choke out new growth, is more of a lawn care myth than a pervasive issue (the grass clippings are usually small enough that they will break down and not present a problem).

If you find yourself with a thick layer of matter that's not breaking down quickly, it's a good idea to collect your grass clippings and use them elsewhere in your yard. You can also bag your grass clippings to bring them to a composting site if you do not have your own.

One of the only times to bag your grass and keep it away from the rest of your yard is if you see signs of lawn disease such as fungus. Then your grass clippings should be collected and disposed of to avoid spreading fungus. It's also important to be aware of where your clippings are going if you use weed control chemicals or pesticides, and sometimes bagging is the best option to avoid contamination to other plants. But if you can, it's best to use the bagging option simply as a means of transport, not direct disposal.

If bagging is the right option for you, Simplicity offers different grass catcher options depending on what type of Simplicity mower you have. Here's a look at what's available.
Grass  Catchers: Simplicity's Bagging Options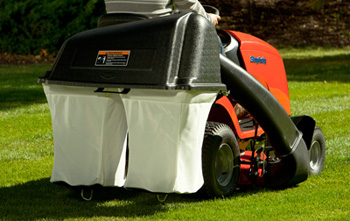 Riding Mowers
A 5 bushel single bagger option is available for Simplicity riding mowers, as is the 6.5 bushel Clean Sweep™ Twin Catcher.

Yard Tractors and Garden Tractors
Simplicity owners with yard tractors or garden tractors have 10 or 17 bushel bagger options, in addition to the 10 bushel Clean Sweep™ Triple Catcher.

Lawn Tractors
Simplicity lawn tractor owners have their choice of the Turbo Collection System (available in 6.5, 10, and 17 bushel), 6.5 bushel Clean Sweep™ Twin Catcher, or 10 bushel Clean Sweep™ Triple Catcher, and the availability and size depends on the lawn tractor model. 

Zero Turn Mowers 
If you have a Simplicity zero turn mower, there are a wide array of bagging options depending on the model. Twin catcher, triple catcher, and turbo triple grass catcher systems are available, and for heavier duty grass collecting, FAST-VAC™ Twin Catcher and Triple Catcher systems are available, plus Turbo-Pro Twin Catcher and Triple Catcher systems in a variety of sizes. 

Check out Simplicity's mower grass catcher & mulching attachments  page to find what bagging options are available for your mower.   In addition, you should consult with your local Simplicity Dealer (insert hyperlink to dealer locator) for which bagger is right for your Simplicity and how to properly fit and operate it.  

To Mulch or Not to Mulch: Mulching Mower Attachments for Composting Grass Clippings
If bagging is not the right option for your yard, you can use your grass clippings to have an even healthier lawn. Composting grass clippings for mulch is a great option, as is just leaving your clippings on the lawn. Instead of wasting the nutrients that have already gone into your grass, you can simply keep them where they are, saving you time and energy while helping the newer grass grow. According to Scotts Lawn Care , grass clippings can actually provide as much as one-third of the annual feeding requirement for your lawn!

You can turn your machine into a mulching mower with our attachments. Simplicity offers a leaf shredder and mulching kit for whatever type of Simplicity mower you have. They come in different sizes depending on the model of your mower and what is best for your needs. If you make sure to keep your mower blade sharp and mow regularly at the recommended cutting height, your grass clippings will be easy to take care of!
Talk to Your Local Simplicity® Dealer
Talk to your local Simplicity dealer today to learn more about the available mulching and bagging attachments for your mower and what is best for your lawn care needs. And if you're in the market for a completely new mower, check out Simplicity's variety of tractor, riding mower, and zero turn mower options!