How to Find the Best Zero Turn Mower for You
---
---
Wondering if a zero turn mower is right for you and your lawn? Simplicity® zero turn mowers are known in the lawn care industry for providing a professional-grade cut for homeowners and landscapers with a lot of land to cover. Zero turn mowers are especially useful for mowing terrain that requires precise maneuvering around trees and landscaping.
Use this zero turn mower buying guide to determine which model is right for you.
Entry-level Zero Turn Mowers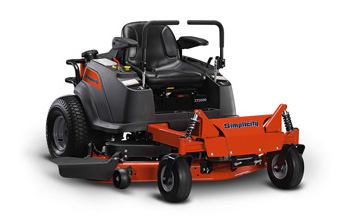 The entry-level zero turn mowers are ideal for homeowners with big backyards looking to get a top-quality cut, faster than with riding mowers or push mowers. While riding mowers are good for big expanses of grass, zero turn mowers offer more maneuvering capabilities and increased horsepower. In addition to being the most affordable models, the smaller entry-level zero turn mowers also offer greater flexibility for getting in and out of gates and storage areas.
ZT1500 Zero Turn Mower: Tackle Lawn Care with Power and Ease 
The Simplicity ZT1500 zero turn mower is easy to use, efficient, and provides a high-quality cut. If you're looking for more maneuverability than a regular riding mower – maybe you've moved into a home with a bigger yard, or you've found it's difficult to get around the trees and landscaping in your yard – the ZT1500 may be the right choice for you.
The ZT 1500 has three different mower deck widths available (42", 46", and 52"), an easy-to-use control panel, a pivoting cast-iron front axle, two engine brands and  the ZT1500 starts at an affordable $2,699*.
ZT2500 Zero Turn Mower: For Heavy-Duty Mowing
The Simplicity ZT2500 zero turn mower  is a high-performing, durable mowing machine, for homeowners who would like a versatile, easy-to-maneuver mower. With durable fabricated 48" mower deck featuring  a Limited Lifetime Warranty**, a heavy-duty Hydro-Gear® transmission, a powerful  Briggs & Stratton® engine, pivoting front axle and front shocks, the ZT2500 is equipped to take on your yard's terrain. Starting at $3,799*, serious mowing power is within reach.
Mid-range Zero Turn Lawn Mowers
Mid-range zero turn mowers offer even more mowing power for homeowners looking to cover a lot of land in little time, particularly if the land has trees, and other landscaping elements to navigate around. The larger size and increased horsepower makes it easy to cut lots of grass quickly and efficiently.
ZT3500 Zero Turn Lawn Mower: Professional Power at Home
The Simplicity ZT3500 zero turn mower provides a top-of-the-line mowing performance, with a greater speed capacity to cover acreage faster. Powerful and durable with a large 48" welded mower deck and heavy-duty frame, the ZT3500 makes even the toughest lawn care tasks a breeze. With a commercial-grade Hydro-Gear transmission and fabricated mower deck, you have the professional power at your fingertips.
The unique mower deck lift makes it easy to adjust the fabricated steel deck with a foot-pedal system, while the heavy-duty Briggs & Stratton Commercial Turf Series™ engine is designed to stand up to tough jobs, dirt and debris for an extended, powerful engine life. Starting at $4,499*, the ZT3500 is a solid choice for serious mowing needs.
Heavy-duty Zero Turn Mowers
Whether you're a landscaping professional, owner of a market farm, or a homeowner with plenty of land, heavy-duty zero turn lawn mowers are the answer to your mowing prayers. Able to cover serious acreage with larger fuel tanks and bigger engines, they're an ideal mowing choice for lawn care tasks short of commercial-grade needs.
Champion™ Zero Turn Mower: Tackling the Toughest Lawn Care Tasks
The Simplicity Champion zero turn mower is for homeowners with serious ground to cover. You need heavy-duty power, and this mower has it. Featuring a uniquely comfortable rear suspension system, a commercial drive system, a powerful Briggs & Stratton Commercial Turf Series engine,and a 50" wide deep profile mower deck, serious lawn care has never been easier to take care of yourself. It's easy to adjust the height-of-cut between seven different settings, and stay comfortable while ensuring a great cut with a pivoting front axle that absorbs shocks and avoids scalping your grass. Starting at $4,999*, the Champion will get serious mowing jobs done in no time.
Champion XT™ Zero Turn Mower: High-Level Mowing Power
The Champion XT zero turn mower combines commercial-style features and performance with the ease and comfort of a backyard mower. A premium mowing machine, it features a heavy-duty Briggs & Stratton Commercial Turf Series or Kawasaki engine, durable mower frame, unique rear suspension system and commercial-grade transmission.
With a 48" fabricated mower deck with rear rollers and front gauge wheels for a stunningly smooth cut and even dispersal of grass clippings, an easy-to-use height of cut adjustment, and rear bumper to protect the engine and components during mowing, this machine doesn't stop until you do. Starting at $5,699*, the Champion XT is in the big leagues.
Commercial Zero Turn Mowers
For landscaping professionals or homeowners in need of high-grade mowing power with a lot of land to cover, Simplicity offers commercial zero turn mower options certain to meet your demanding landscaping needs.
Citation XT™ Zero Turn Mower: Commercial Power at Home
For mowing large acreage or rough terrain, the Citation XT Zero Turn Mower can give you easy, responsive steering and an even better cut. With powerful commercial-grade engine options, a comfortable suspension system, and the choice of a 52" or 61" mower deck, this mower gives you quality results at a fraction of the time and effort.
You're the professional now, with an easy-to-use control panel and adjustable height-of-cut, powerful transmission, and pivoting front axle for a smooth ride and even smoother cut. No need to hire a team of landscapers when you can take care of the lawn like a pro yourself. The Citation XT starts at $6,299*.
Cobalt™ Zero Turn Mower : Maximum Commercial-Grade Power
For maximum power and mowing results, the Simplicity Cobalt zero turn mower can handle the roughest terrains faster and more comfortably than other zero turn mower options. The Cobalt's heavy-duty Briggs & Stratton Vanguard™ engine, commercial-grade transmission and suspension system gives you more speed through lawn care tasks. It also boasts a fabricated mower deck for excellent cutting and grass clipping discharge, easy maintenance, and a protective rear bumper.
With the Cobalt zero turn, you'll experience a luxury mowing experience with a deep-cushioned seat with armrests, adjustable steering levers – and a cup holder. You'll never want to stop mowing. Whether taking care of your own lawn or clients' landscaping, the Cobalt is the ultimate zero turn mower – starting at $9,099*.
Powerful Zero Turn Mower Attachments
Not only do Simplicity zero turn mowers offer serious mowing power, but no matter which model suits your needs, there are mower attachments to suit any task. From mulcher kits and grass catchers to headlights and hitch attachments, you can find what you need to get the job done.
Where to Buy a Zero Turn Lawn Mower
Talk to your local Simplicity dealer about the available models – they can explain them to you in person and answer any questions you may have.
Be sure to ask your dealer or check out our website for the currently available promotional financing deals to make your dream of owning a Simplicity zero turn mower a reality.
*Suggested prices will vary by market. Prices in U.S. dollars. Set-up, delivery, documentation, and destination fees not included. See dealer for details.
**See dealer or operators manual for details.